FCA publishes Enforcement Annual Performance Report 2018/2019
Alongside its Annual Report and Accounts, on Tuesday 9 July 2019 the FCA published its Enforcement Annual Performance Report (the Enforcement Report), which provides an overview of the FCA's enforcement activities during 2018/2019.

We set out some of the highlights from the Enforcement Report below.
Caseload
343 cases were opened by the FCA in the past year, up from 302 cases opened in 2017/2018. This has led to a 31% increase in the number of open enforcement cases, from 496 last year to 650 (following several years of similar increases).
These statistics underscore the FCA's continued use of Enforcement investigations as a diagnostic tool.
Fines
The total value of financial penalties imposed by the FCA has increased threefold compared to the prior year (from £69.9 million to £227.3 million). These fines were split across 16 enforcement actions, with eight fines imposed against firms and eight fines imposed against individuals.
These figures may be to some extent skewed by the £76 million fine against Mr Stewart Owen, the largest fine that the FCA has levied against an individual to date.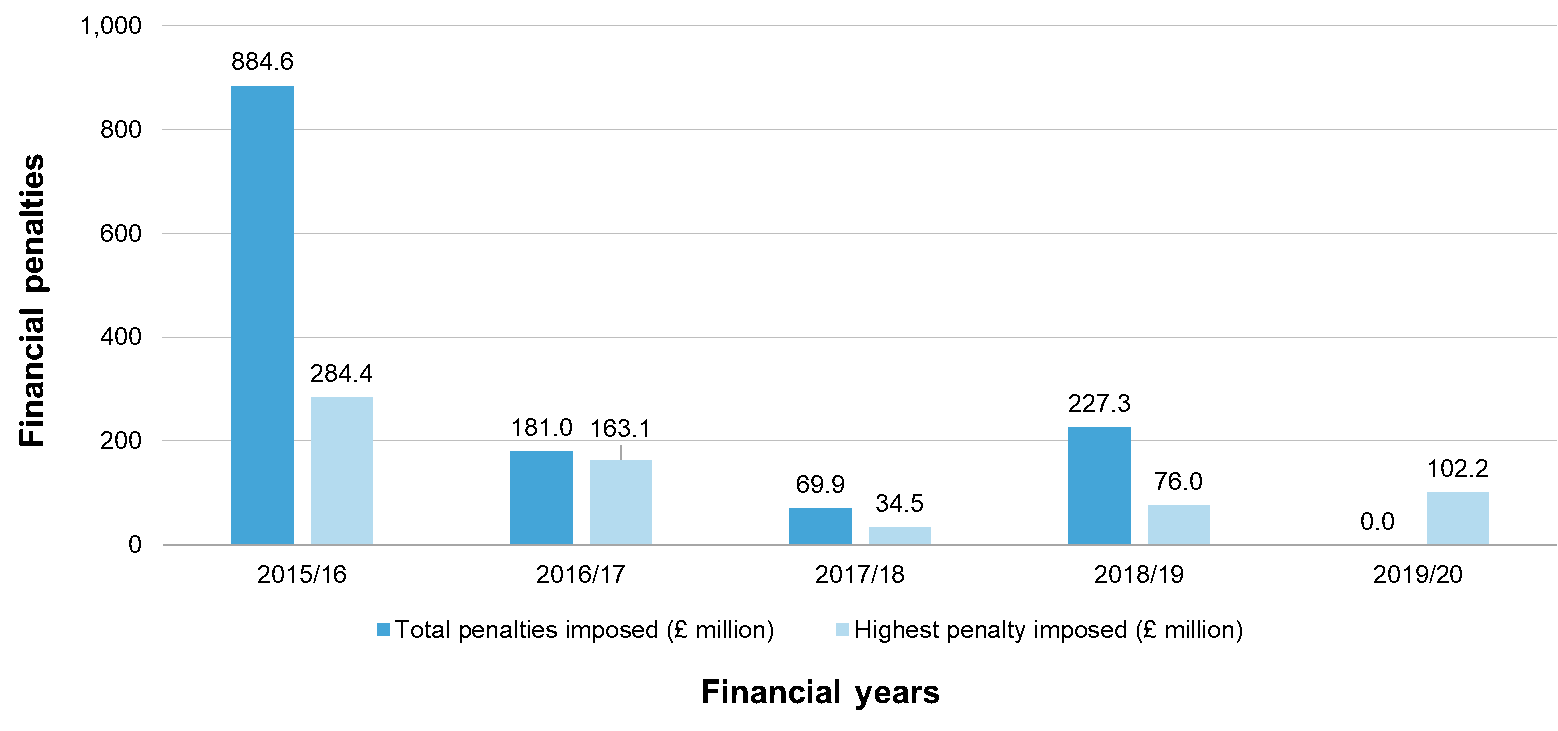 Case length
The average length of all regulatory and civil cases, including cases closed with no further action, has gone down from 19.1 months in 2017/2018 to 17.5 months in 2018/2019. There has been a slight decrease in the length of settled cases (from 32.3 to 29.1 months).
This reduction may be partly linked to the FCA's changes to its operating model to "drive greater efficiency" and its commitment to "end investigations promptly", as highlighted in the FCA's Approach to Enforcement published earlier this year.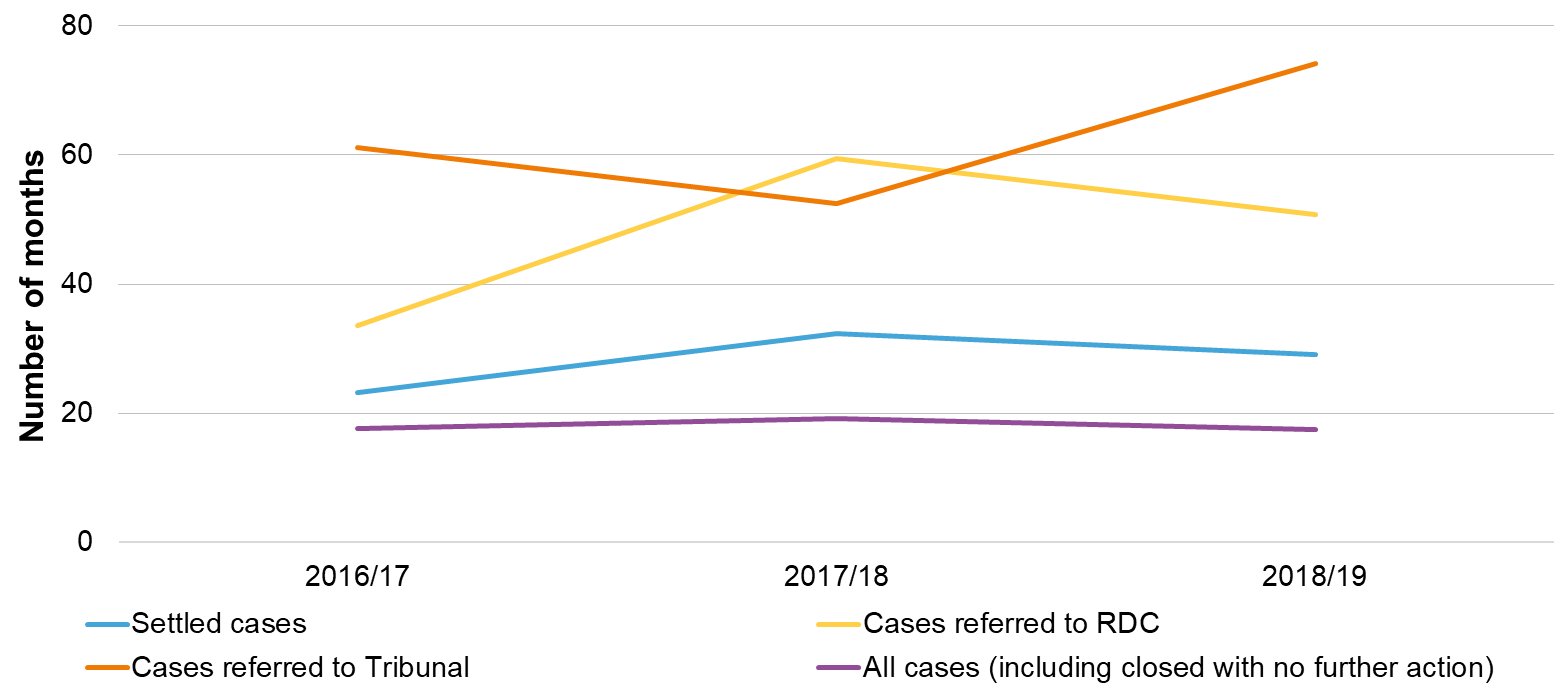 Focus
The main subject matters for open cases (excluding unauthorised business) are:
Market Abuse (i.e. insider dealing, market manipulation and misleading statements) – 158 cases, up by 40%. The number of open misleading statements cases has roughly doubled, from 16 to 29.
Retail Conduct – 101 cases, up by 29%.
Financial Crime – 88 cases, up by 16%.
Culture and Governance – 70 cases, up by 15%.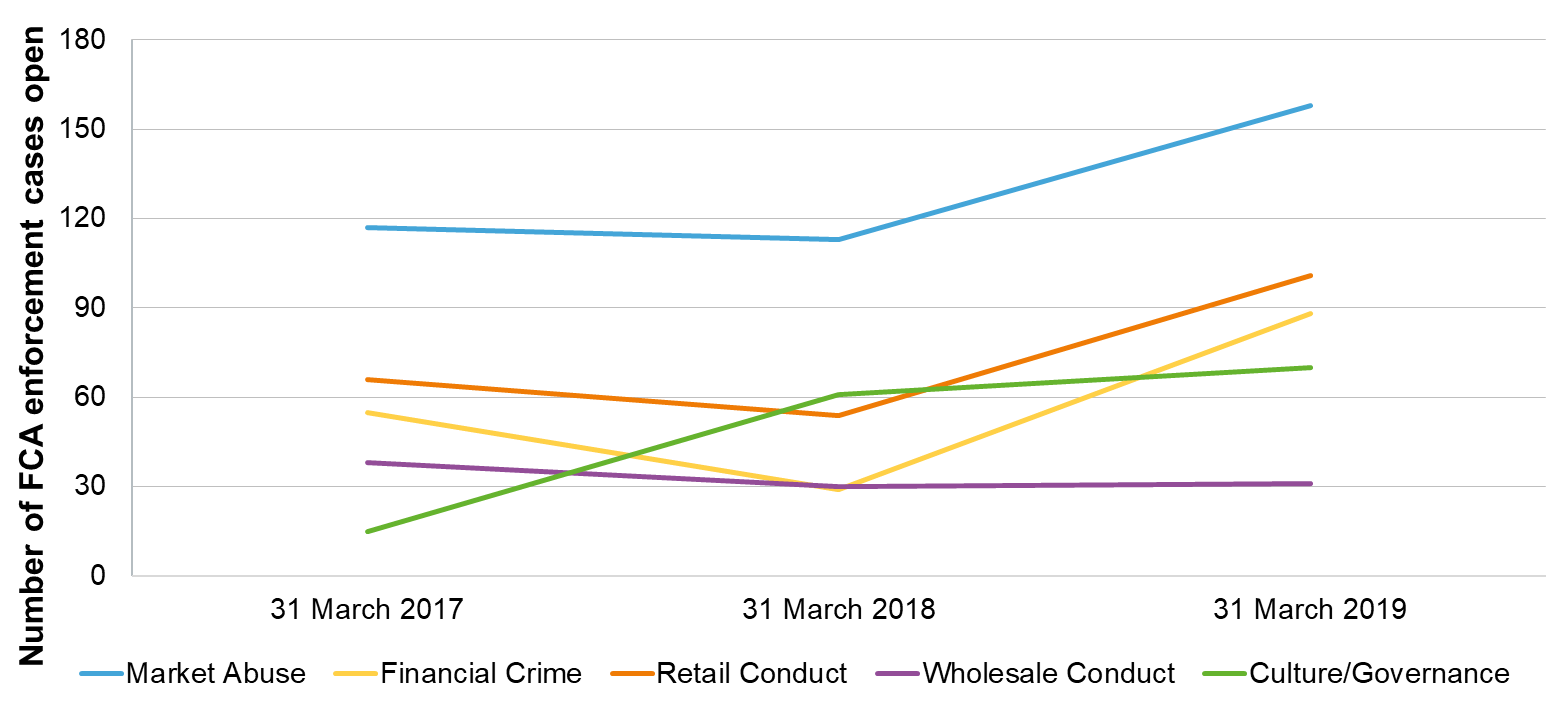 There has been a 76% increase in the number of open unauthorised business cases over the year, from 77 to 136. The Enforcement Report notes that the Unauthorised Business Department (UBD) received the highest number of reports about potential unauthorised activity in a single year in 2018/19 (16,600 received, representing a 25% increase on last year).
The FCA attributes this increase in part to the proliferation of fraudulent online trading platforms, generally based outside of the UK but targeting UK consumers. These platforms offer fast trading and high returns. They use social media to target investors and present themselves as a natural, more sophisticated, progression to online gambling. The FCA has published a record number of consumer warnings as a result.